We all have a constant battle with time and the feeling of loss. The only time you can win is by turning your back on this limited belief and walk away… somewhere brighter and better.
I painted this on the start of my spiritual journey, and confusion after the glass broke, and not knowing where to go. Exchanging one time bound experience for another, as I swim towards it I see in the distance the light calling me. If I follow, I might just find the answers, because right now time is holding me back. I painted myself holding the balloons, because it gives this a connection to the inner child, the pure part of yourself. 
But where am I going? 
Why is available as a digital download? 

I battled with this as an artist I want to paint and sell my art for you to hang and enjoy. The traditional way would be on a canvas, but there is nothing about digital art which is traditional, is there?

Now we hold art in our hands, drink from it, sit on it and even sleep under it. We can print images that move us, bring us joy, or impact things around us. Not every one wants a painting on the wall, and so I wanted to deliver options. 

BUT I didn't want to print iPhone covers, t-shirts and mugs in the hope you might want them. So with the plethora of apps out there, I figured you can find them, save money and time and do it yourself. 

This image comes in the traditional form and I will do all the printing for you, or you can get it in a digital format and download it yourself. How cool is that? 
Subscribe
Sign up to my newsletter and find out the inner workings and struggles of an artist, inspiration, the how and why, and plenty of other good stuff.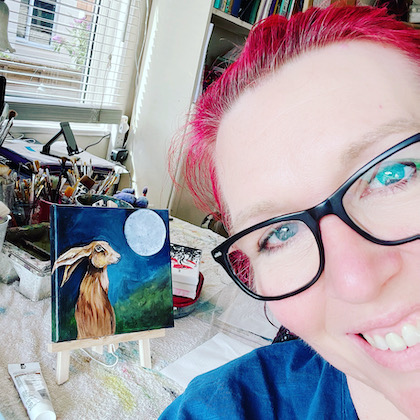 So last week, I retired. I know it is probably old news now, but for those reading this for the first time…I turned 50 and changed my...