Have you ever wanted to
Learn How to Draw on an iPad?
👩🏻‍🎨For seasoned artists wanting to master a new medium.
🎨New artists looking for convience.
🖥Pre recorded course & 1 live class
🍎For creatives like me who want something to escape with…
iPad art 🎨 LEARN Digital Drawing for
£95
Special Pandemic price & whilst course is being updated >>
Get this course bundle for £47.50
This course comes in 2 parts, the first lesson is a LIVE virtual class.  This face to face class is delivered virtually and will teach you from the basics up to more advanced techniques of Digital Art. Working with an iPad, Apple Pencil (or other stylus) and the app Procreate. I will teach you the fundamentals of digital drawing.
The second part of this course consists of 5  prerecorded lessons. This will give you a reference to all the basics of Procreate in one place. It will include a virtual tour and 5 key lessons, in not just art but the other elements of this Procreate, through an art demonstration.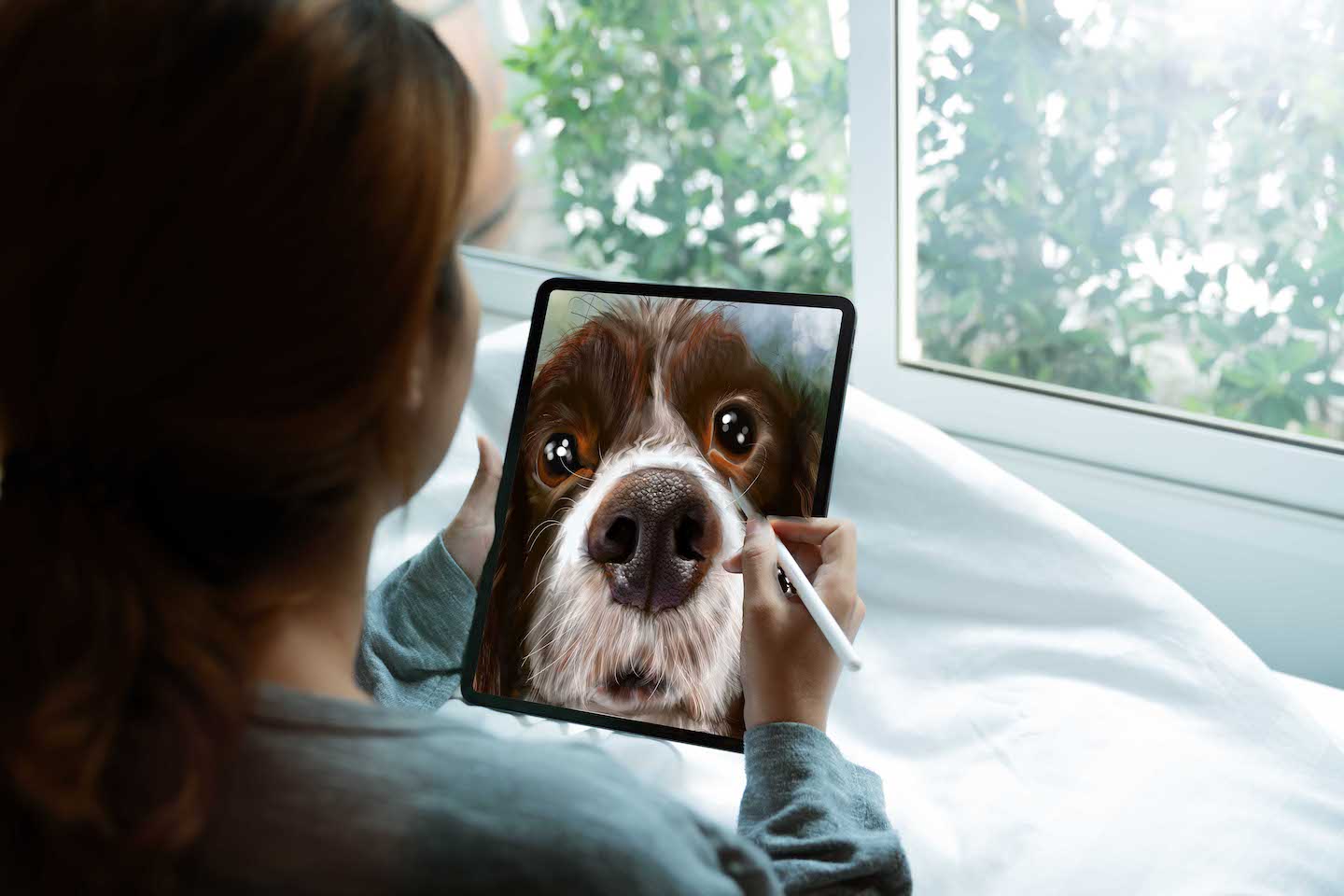 Follow along in your own time, stop and start as many times as you like and learn whenever or where ever you are.
From the bus stop to the beach, now you can produce masterpieces anywhere. But considering we are on lockdown – you could use the time at home to prepare for when we can paint on location.
Painting in a field or curled up with the dogs in front of the fire, the point is that digital art has opened up new possibilities for everyone.
A Live Online Face to Face Class Lasting 3 hours + a pre recorded course!
What will you learn in this series of classes?
6 classes each delivering a finished work of art.
You will learn all aspects of the app Procreate.
Procreate tour and reference video ( you know for those moment you get stuck and forget how to do something.)
Once you have purchased this course you will be instantly receive access to the online lessons and receive an invite to join in on the weekly live class.
During the class you will work alongside me and I will be able to view and help you if you get stuck.
Click Here
Introductory price – £47.50
Recorded course
& live face 2 face class.
SAVE 50% TODAY
Flowers
The first of the five lessons, Flowers will teach you the basics of Procreate and help you develop an understanding of layers, tools, pen pressure as well as the other aspects you will need to continue on to the intermediate lessons.
Seascape
Once you have completed Flowers you will be able to advance onto Lesson 2 Seascapes. This lesson will take you through some of the more advanced abilities of Procreate.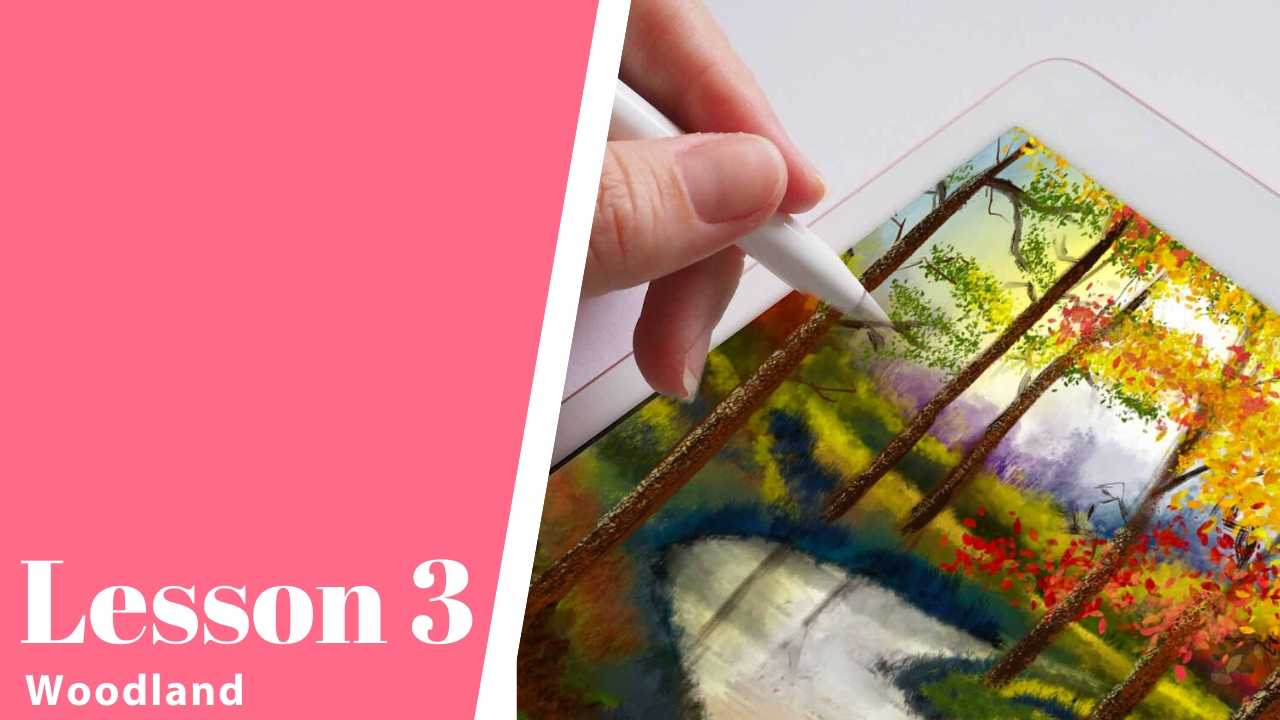 Woodland
Lesson 3 visits textures and perspectives, we will look at how to capture the details in open spaces. Working in detail, this is a different style of landscape.
Still Life
In this lesson, we look at texture, how to create a 3D effect, mascing and other cool stuff that you may not know procreate does. this lesosn will also show you how to create a water droplet. You will be drawing an orange and leaf in this lesson.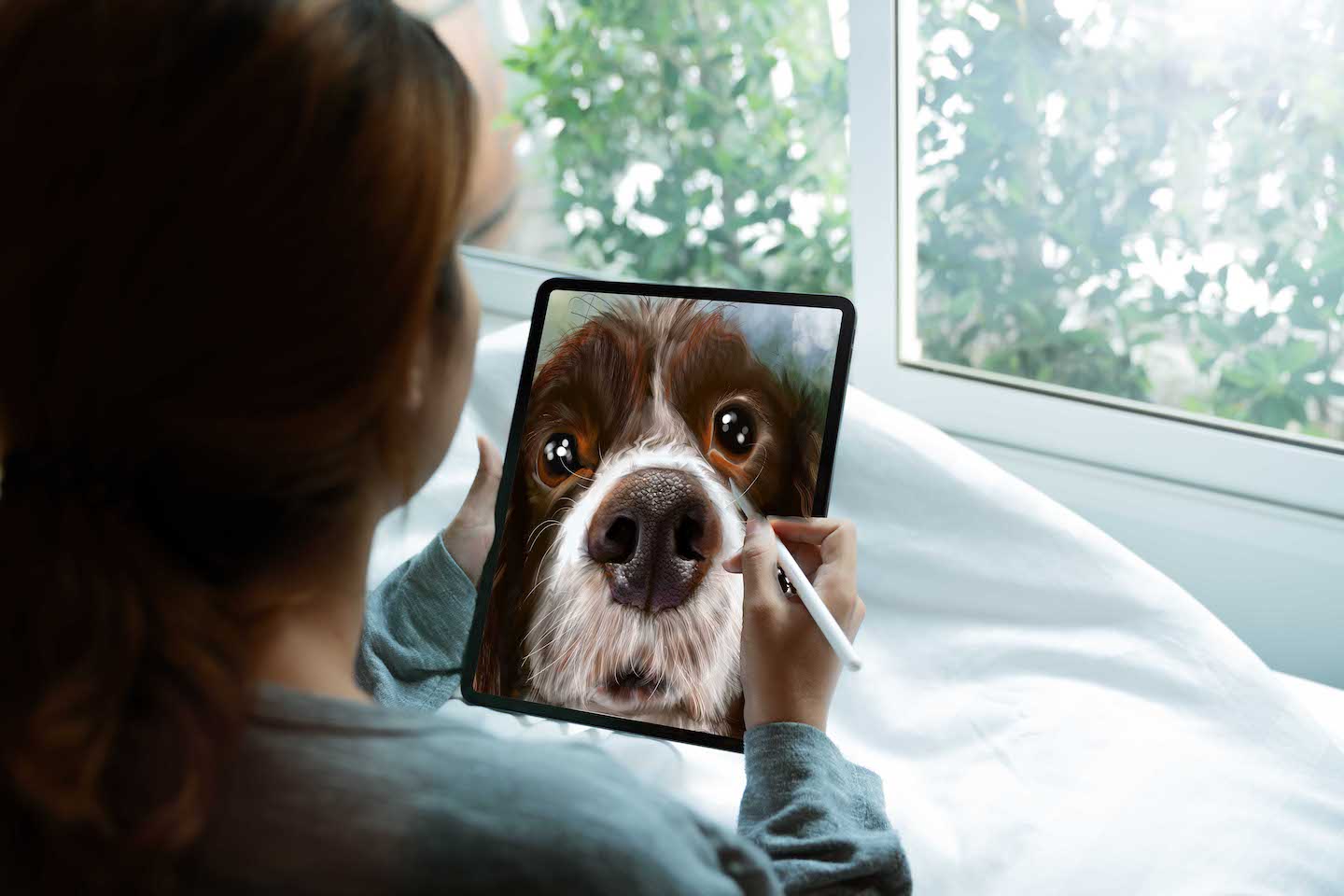 Animals
Animals marks the start of our expert lessons, we will tackle the complexity and intricacies of fur. With what we have learned from previous lessons around creating the fluidity of movement and detailing. We will expand on these to create the image of a dog.
Portrait
Our final lesson tackles one of the most difficult subjects to draw, Portraits. Using all you have learned from previous lessons we will look at how to draw a face with step by step guides to features that come together to make a face.
The next class is on April 15th, from 9 am-11 pm GMT -3hrs
🖌 Maximum 10 people
🎨  Must have an iPad, Procreate & stylus or Apple Pencil. Another device to watch the lesson on such as a phone or laptop.
Other Stuff You Need To Know About This Interactive Class.
You will need an Ipad & apple pencil or another stylus. You will also need to download the app Procreate.
I will take you through the basics in the course and in the first live lesson, all whilst creating a flower design. YOU DON'T need to know how to draw or paint for this lesson, as you will receive a template.
You will receive an email once booked onto the class, with login information. You can arrange for one of the Be Inspired team to connect with you before the class and set you up.
We will be using a system called Zoom and we will recommend you download this FREE app onto your iPad before we start, so I can see you working.
You don't need to be technical or have special cameras. Just an iPad, Procreate and Zoom. Internet or WiFi is also needed. But you will have a 5 min call before the class to set you up.
The course is all pre-recorded (except for the live intro class) and you have lifetime access to the content.  We are currently rebuilding this course, and updating the content, so the course lessons will be released weekly. The course should be completed by the end of May at the latest.
What They Say About This Class!
I joined this class as a complete beginner, I didn't hold out much hope, but am totally hooked. Sam was so
patience and able to help me produce a half decent poppy. These was a really great experience, and chatting to others in a small class setting a welcome distraction and company. I can now draw on my ipad, there is not stopping me now.
I normally paint with Acrylic and Texture paste,  So when I did my first online live class with Sam I could not believe the many cool tricks I learned in such a short time, I can not wait to attend the next class and learn more.
Thank you  for these amazing courses you're a true inspiration.
I thought I knew how to use the procreate app, how wrong was I. I am so excited to apply what I have learned today to my art. 
Had a lovely time  with this digital art classes . You'd be insane not to do this there is so much information  and help.  It was an awesome lesson 
Who's going to show you how. 
Hi! I'm Sam Biddle. I help others find their artistic mojo and I have been teaching art and design super skills to nail professionals worldwide.
That's my day job, my alter ego is a digital art ninja. Working with my iPad and pencil wasn't how I started. I started creating art using pixels and hex codes way back before the turn of the century…sadly I am that old.
Now you're in luck, because I've been there, done that, and come back to show you how. So Grab your Ipad and lets get started.
Book your spot on this Virtual Digital Drawing class
start today to start painting on your ipad and digital drawing.